Have you ever sat in a movie theater, eyes glued to the screen, and suddenly been hit with a wave of sneaker envy? You're not alone. The connection between Hollywood and sneakers runs deep, creating a pop culture phenomenon.
Sneakers aren't just about style; they're a symbol of identity and personality. When a character walks on the scene with a pair of fresh kicks, it reveals a lot about who they are, without uttering a word. This undeniable influence extends beyond the world of film and into the lives of the audience, influencing not only style but also sneakerhead culture. It's not uncommon to find movie buffs turning into sneaker collectors, thanks to that one unforgettable shoe that stole the show.
In the world of sneakers in movies, we often find iconic kicks that have made their mark in Hollywood history, becoming just as memorable as the scenes they were featured in. Each sneaker tells a story, contributing to the character's narrative and sometimes, if we're lucky, turning into a symbol of the movie itself.
There's magic in every detail. From Back to the Future's time-traveling shoes to Forrest Gump's unforgettable running sneakers, this list explores the top ten iconic sneakers featured in blockbuster movies. So, tighten your laces, folks. We're about to step into some legendary footprints!
1 – Stepping into the Zone: Air Jordan XI "Space Jam"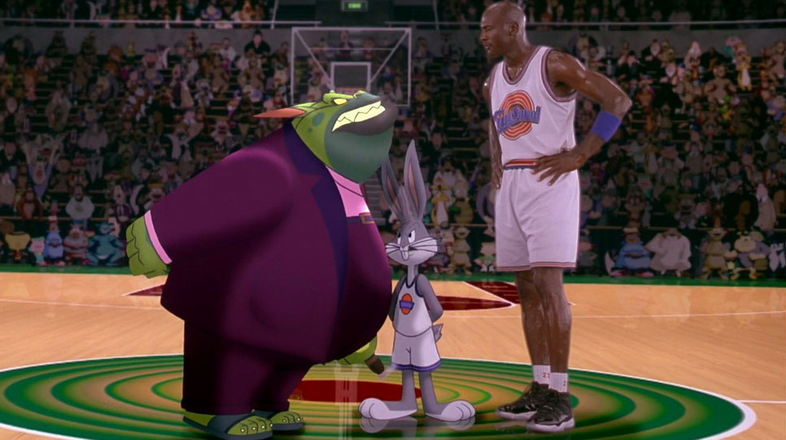 One can't delve into the universe of iconic sneakers without stumbling upon the Air Jordan XI "Space Jam," a sneaker so famous it even shares its name with the movie it was featured in. Yes, we're talking about the 1996 classic, Space Jam, where NBA legend Michael Jordan teamed up with Looney Tunes characters for a whimsical basketball match against aliens. The sneaker captured the hearts of sneakerheads and movie enthusiasts alike.
The Air Jordan XI was a brainchild of Tinker Hatfield, whose vision was to create a sneaker that looked good on and off the court. And oh, did it deliver! The "Space Jam" edition, named after the film, made quite an impression with its shiny black patent leather upper and clear outsole, making it a popular choice among sneaker collectors. And, of course, being the pair that MJ wore in the epic basketball showdown, it cemented its place as one of the most famous sneakers of all time.
2 – Running into History: Nike Cortez in Forrest Gump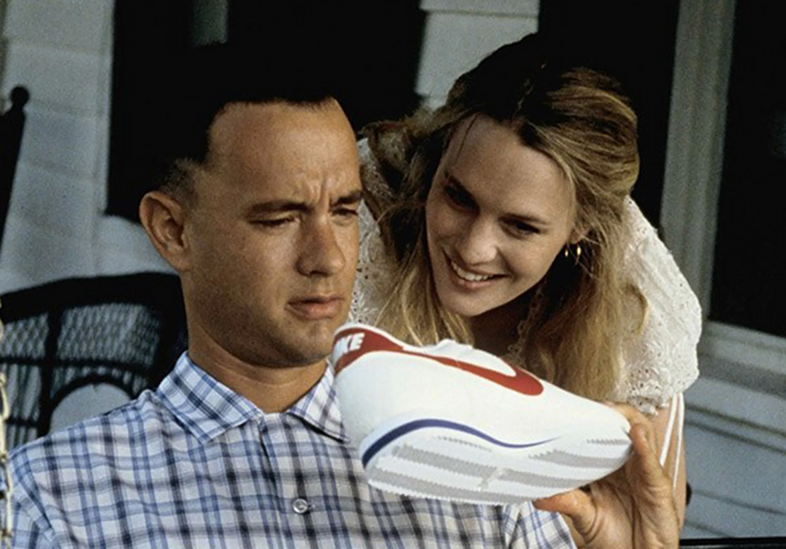 Remember the moment when Forrest Gump, played by the phenomenal Tom Hanks, embarks on a spontaneous cross-country run that lasts three years? The sneakers that carried him through it all were none other than the iconic Nike Cortez.
Introduced in 1972, the Nike Cortez was designed as a track shoe but quickly became a popular choice for casual wear. When Forrest laced up his red, white, and blue Cortez, the sneakers instantly became a piece of cinematic and sneaker history. More than a movie prop, they symbolized Gump's journey and endurance, aligning perfectly with the character's inspiring spirit.
This moment was so impactful that it not only revitalized the Nike Cortez's popularity but also enhanced the connection between sneakers and movies. Forrest's run became an unforgettable pop culture moment, and so did the Nike Cortez.
3 – The Classic Appeal: Adidas Country in Beverly Hills Cop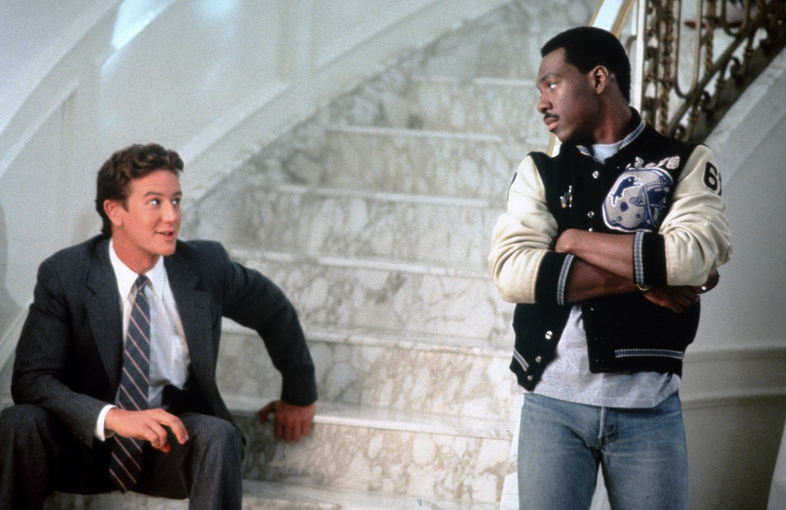 Axel Foley, the street-smart Detroit cop played by Eddie Murphy in Beverly Hills Cop, was known for his quick wit, snappy comebacks, and of course, his Adidas Country sneakers. As much as his humor and the catchy theme song, Axel's sneakers became an integral part of his iconic look.
Launched in the '70s as a performance running shoe, the Adidas Country gained notoriety for its unique design featuring a mesh upper with suede overlays. As Axel prowled the streets of Beverly Hills, his trusty pair of Adidas Country was there with him. The sneaker's simplicity and Axel's laid-back demeanor made the perfect pairing, and soon, fans were scrambling to get their hands on a pair.
These Adidas Country sneakers have had their share of the spotlight, standing as a symbol of the '80s cool and becoming one of the most famous sneakers on the silver screen. Even today, they remain a fan-favorite, keeping the legacy of Beverly Hills Cop alive in the sneaker culture.
4 – Striking Gold: Onitsuka Tiger Mexico 66 in Game Of Death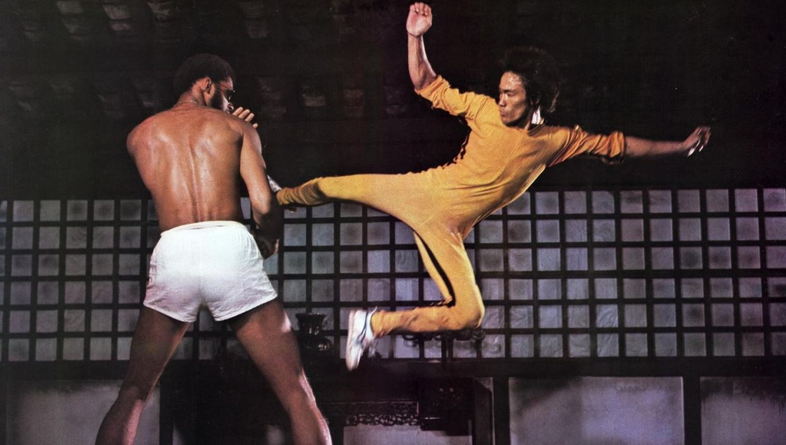 In the world of martial arts and cinema, few figures are as revered as Bruce Lee. His 1978 film, Game of Death, became legendary for various reasons, one of them being his distinctive yellow jumpsuit paired with the Onitsuka Tiger Mexico 66.
Designed in 1966 by the Japanese shoe company Onitsuka Tiger, now known as ASICS, the Mexico 66 quickly became an iconic sneaker for its unique design. It featured two different colors, strikingly similar to the suit Bruce Lee donned in his film. Bruce Lee's influence on pop culture and the sneakers' vibrant design combined to immortalize the Onitsuka Tiger Mexico 66 in sneaker history.
To this day, sneakerheads and martial arts fans associate these shoes with Bruce Lee's unparalleled style and charisma. Such is the enduring appeal of this classic sneaker that it's still a coveted piece in sneaker collections worldwide.
5 – A Touch of Rebellion: Jordan 4 in Do The Right Thing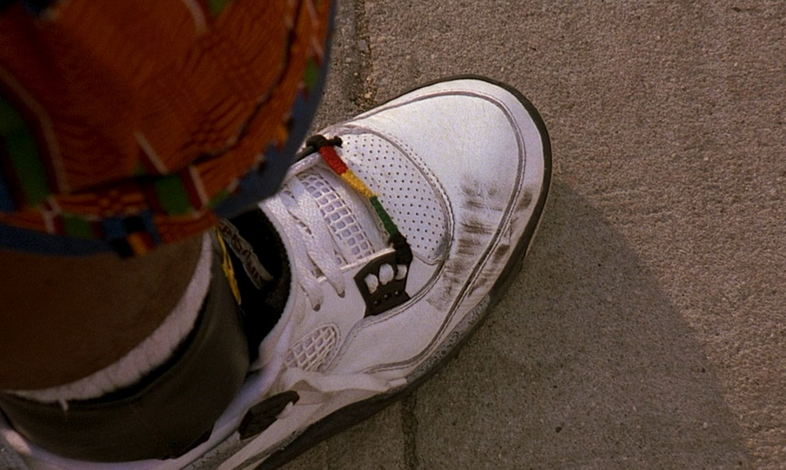 Do The Right Thing, Spike Lee's 1989 film, was a powerful commentary on racial tension. Amidst the drama and heated debates, a pair of sneakers managed to steal the spotlight – the Air Jordan 4.
When Buggin' Out, played by Giancarlo Esposito, got his pristine white Jordan 4s scuffed, it was a moment of silent gasp for all sneakerheads watching. The scene served as a perfect reflection of the tension and frustration brewing in the neighborhood.
The Jordan 4, with its distinctive mesh side panels and visible Air unit, was already a fan favorite in the sneaker world. However, its appearance in a groundbreaking movie like Do The Right Thing boosted its popularity. Today, the Jordan 4 holds a special place in both sneaker culture and cinematic history, much like the film itself.
6 – Fun and Games: Nike Air Force II in Big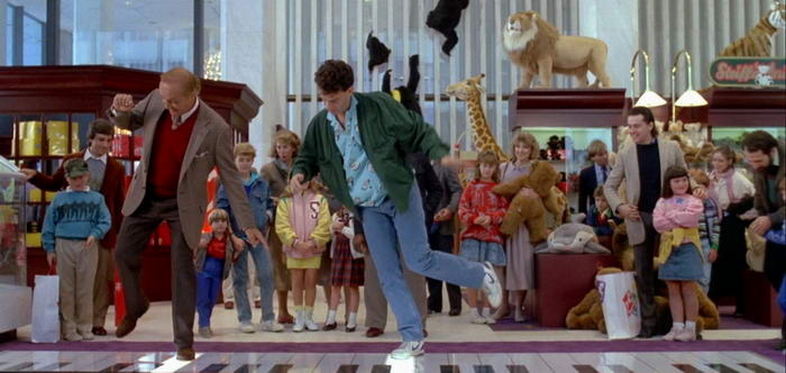 There's something incredibly nostalgic about Big, the 1988 film where Tom Hanks plays a kid trapped in an adult's body. What adds to this nostalgia is the sight of Hanks' character sporting a pair of Nike Air Force II.
Introduced as a follow-up to the original Air Force 1, the Nike Air Force II was a hit among basketball players and sneaker enthusiasts alike. Additionally, sneaker's bold colorways and chunky silhouette were a perfect match for the 80's style.
As Hanks navigates the trials and tribulations of adulthood, his Nike Air Force II sneakers serve as a reminder of his true age. They're not just shoes from a movie; they're a symbol of his youthful spirit.
Even decades later, the sight of the Nike Air Force II in Big takes us back to a simpler time, making this sneaker movie a must-watch for every sneaker and movie fan.
7 – Rewinding the Timepiece: Nike Vandal in The Terminator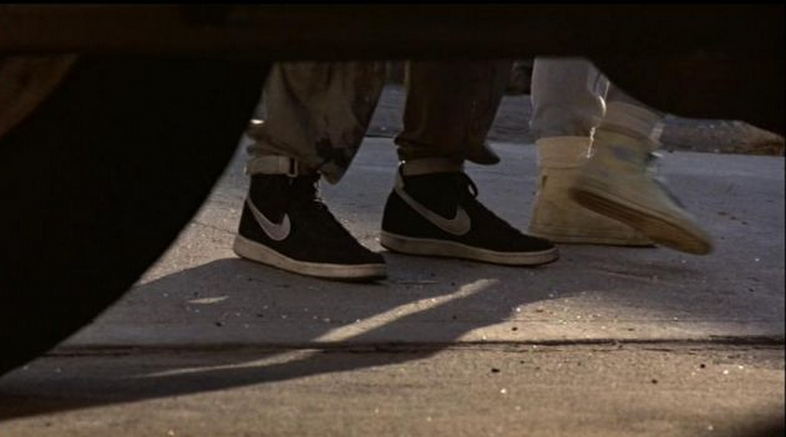 Stepping into the war-torn future of 1984's The Terminator, it's Kyle Reese, not the metal behemoth himself, who adds a touch of sneakerhead chic to the grim ambiance. As the scrappy warrior sent to safeguard Sarah Connor, Reese swiftly equips himself with Nike Vandal sneakers, their metallic sheen becoming an unexpected beacon amidst the film's darker palette.
Reese's Nike Vandals, boasting high-tops and a catchy Velcro strap, create a stylish dichotomy against his threadbare gear. The Vandals have subsequently turned into a sneaker movie classic, their appearance in the film securing a time capsule spot in sneaker culture.
8 – Stepping into Space: Reebok Alien Stomper in Aliens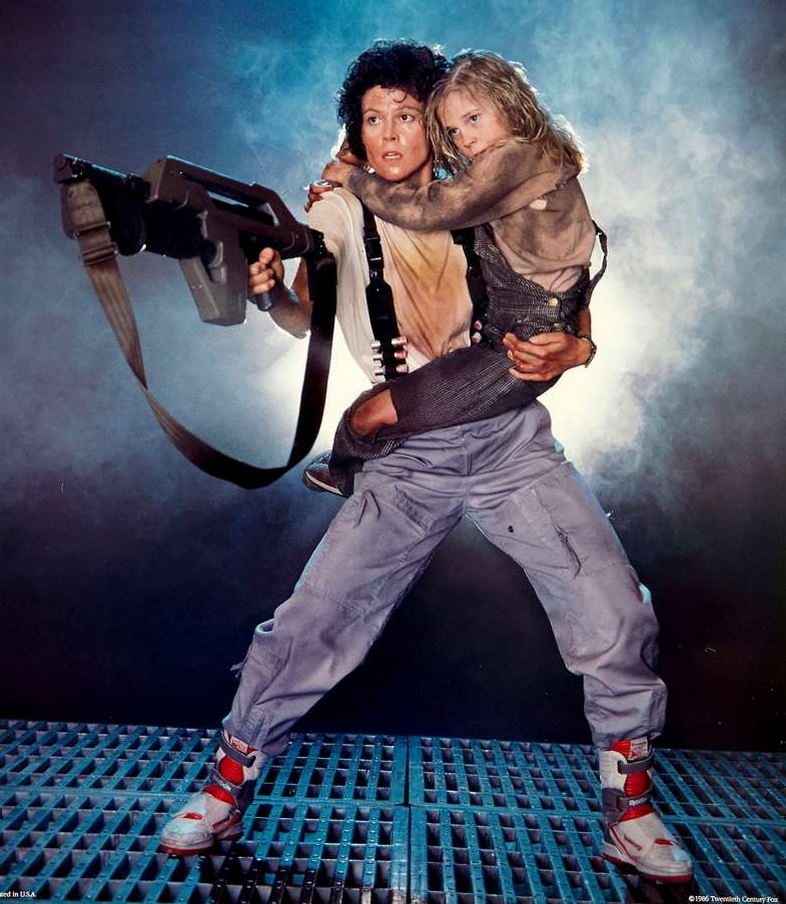 Aliens, James Cameron's 1986 sci-fi horror, is famous for many things: its gripping plot, intense performances, and yes, the Reebok Alien Stomper. These futuristic high-tops, worn by Sigourney Weaver's character Ellen Ripley, became a symbol of defiance and survival.
In a movie setting dominated by extraterrestrial creatures and high-tech weaponry, Ripley's footwear stood out, adding a unique touch to her character. The Reebok Alien Stomper's design, with its high ankle strap and sleek look, was considered ahead of its time.
The Alien Stomper's appearance in this classic movie made it a sought-after piece among sneaker enthusiasts, cementing its place in sneaker history.
9 – Time-Travelling Kicks: Nike Air Mag in Back to the Future Part II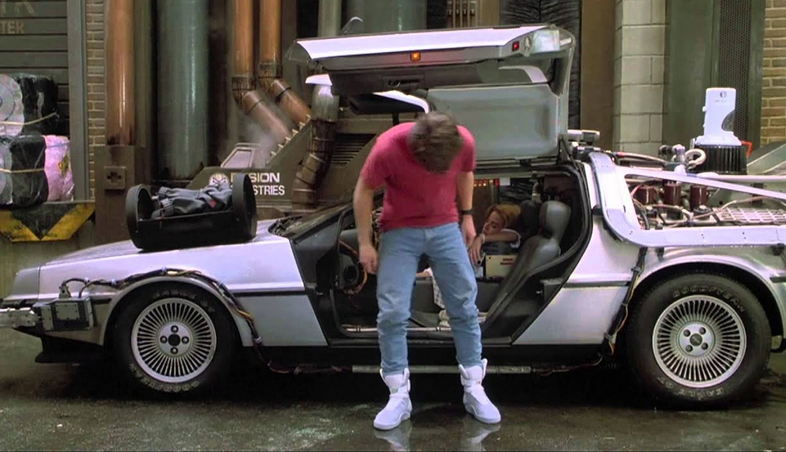 The future was bright and full of wonder in Back to the Future Part II, and Marty McFly's self-lacing Nike Air Mags certainly proved that. Released in 1989, this film showcased one of the most famous sneakers ever seen on screen.
The Air Mags were futuristic and flashy, with their auto-lacing technology and illuminating LED panel. Nike's visionary design not only captivated audiences but also symbolized the movie's core theme of a technologically advanced future.
Even though self-lacing shoes were a dream in the '80s, Nike made it a reality in 2016 by releasing a limited number of self-lacing Nike Air Mags, much to the delight of sneakerheads worldwide. This made the Nike Air Mag a symbol of how life imitates art, and vice versa.
10 – Payback with Panache: Onitsuka Tiger Tai Chi LE in Kill Bill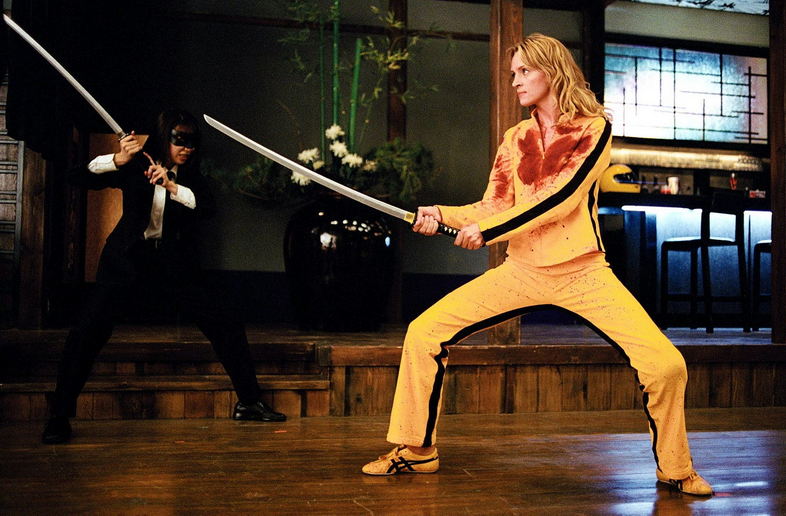 Quentin Tarantino's Kill Bill is more than just a film. It's a style guide for revenge, an integral part of which is the Onitsuka Tiger Tai Chi LE sneakers worn by Uma Thurman's character, The Bride.
As vibrant as her unfettered determination, the yellow-and-black sneakers are a perfect complement to her audacious suit. In an adrenaline-fueled action thriller, the Tai Chi LEs make their mark – and then some – in the movie's stylistic language.
These sneakers aren't merely foot coverings, but a siren call to sneaker enthusiasts. They have embedded themselves into the fabric of pop culture, symbolizing one of the most visually impactful union of sneakers and Hollywood cinema.
So, next time you settle in for a movie night, pay a little extra attention to the shoes from movies. You never know, you might just spot a new pair to add to your ever-growing iconic sneaker collection. Because, in the grand scheme of things, isn't that what being a true sneakerhead is all about? Celebrating the blend of style, culture, and history, one pair at a time!