Beginning with the establishment of Casio, a company that has woven itself into the fabric of watchmaking history. The journey started in 1946, when the four Kashio brothers – Tadao, Shigeru, Yukio, and Kazuo – in Tokyo, Japan, first founded Casio Computer Co., Ltd. Born out of a spirit of innovation, the company was dedicated to making people's lives easier and more convenient. It's fascinating to realize that Casio's first product wasn't a watch. It was a yubiwa pipe, a ring that held a cigarette, allowing the smoker to smoke the cigarette down to its nub while also leaving the user's hands free.
In the mid-1970s, with an ingrained philosophy of creating something from nothing, Casio entered the wristwatch market. The global watch industry experienced a paradigm shift as digital watches became the new trend. Casio, not one to be left behind, introduced the Casio Casiotron in 1974, a digital watch that not only displayed hours, minutes, and seconds but also had an automatic calendar that adjusted for leap years.
In the course of the company's long history, some of their classic Casio watches have gained iconic status in the watch world. They've been donned by the famous, the ambitious, and the bold, symbolizing a spirit of innovation and constant evolution.
Let's wander down memory lane as we explore some of the most unforgettable vintage Casio watches that have stood the test of time. From their charming designs to their revolutionary features, these watches have made a significant impact on Casio's legacy and the entire watch industry.
1 – Casio F-91W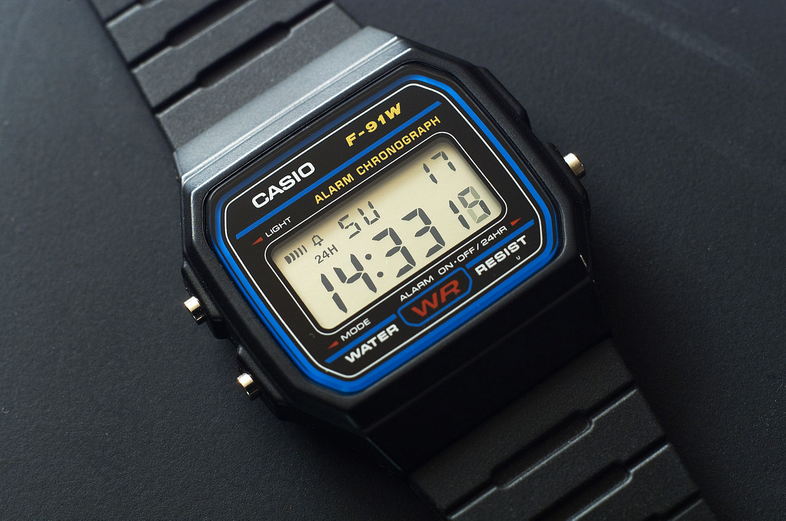 If there's a timepiece that screams Casio classic watch, it's the F-91W. Introduced in 1991, this digital marvel became synonymous with reliability and affordability. Its timeless, minimalist design and simple three-button operation made it popular among all age groups. Equipped with a stopwatch, alarm, and day/date function, it was a perfect blend of form and function.
The F-91W's lightweight resin case and the accuracy of its quartz movement made it incredibly comfortable and reliable, a wrist companion that would never let you down. Over the years, this iconic piece saw variations in color and strap materials, but its core design principle – simplicity – remained unchanged.
Even today, in an era of smartwatches and high-end timepieces, the F-91W holds its own, a testament to Casio's enduring legacy and the lasting appeal of classic Casio watches.
2 – Casio G-Shock DW-5000C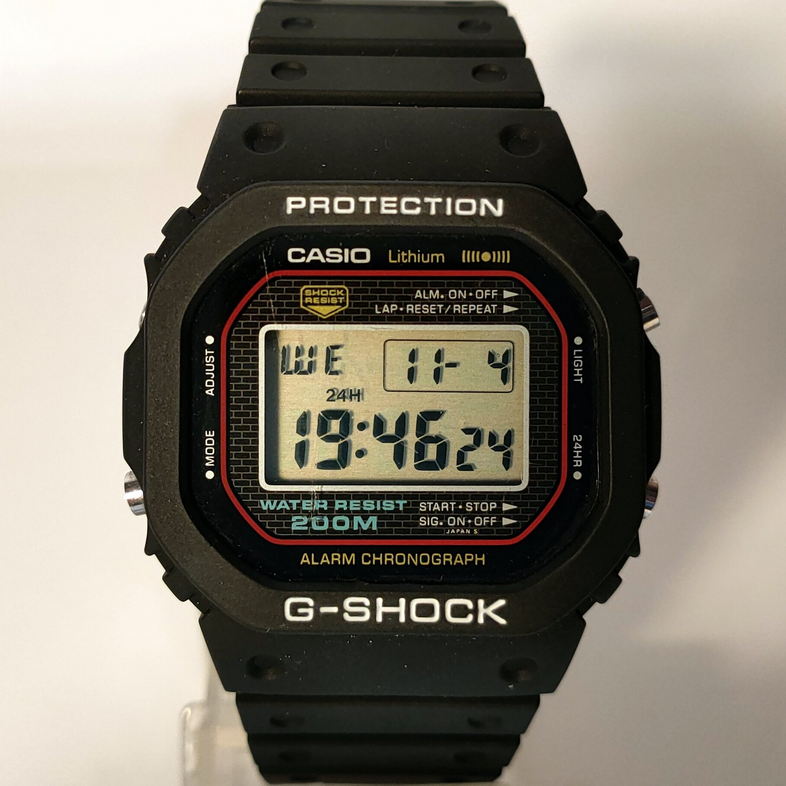 In 1983, Casio launched a watch that would revolutionize the industry – the G-Shock DW-5000C. Designed by engineer Kikuo Ibe, the G-Shock was conceptualized around the "Triple 10" principle: a battery life of 10 years, water resistance up to 10 bars, and the ability to survive a 10-meter drop.
The G-Shock became the epitome of toughness and durability, thanks to its robust build and shock-resistant design. The exterior offered a practical and sporty aesthetic, while the inner workings were protected by a series of cushioning elements that guarded the quartz timing module.
This groundbreaking Casio classic watch didn't just tell the time; it defied the elements. Over the years, the G-Shock series expanded to include various models, each offering a unique blend of resilience, practicality, and style.
3 – Casio CA-53W Calculator Watch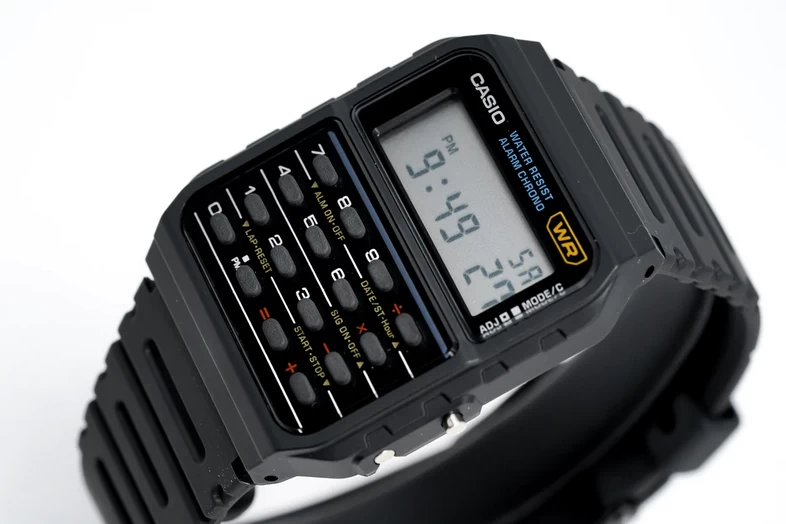 If there's a watch that epitomizes the 80s, it's the Casio CA-53W Calculator Watch. Gracing the wrists of famous wearers, like Marty McFly in the Back to the Future movie series, this timepiece was the epitome of geek chic.
The watch's defining feature was its built-in calculator, a mini marvel in itself. For students, engineers, and number enthusiasts alike, the ability to crunch numbers on the go was unprecedented. Also, the CA-53W came with dual time, a daily alarm, stopwatch, and automatic calendar, further extending its functional appeal.
Apart from being a Casio classic watch, the CA-53W represented an era where functionality, design, and innovative technology merged to create products that shaped consumer behavior and trends.
4 – Casio Databank CD-40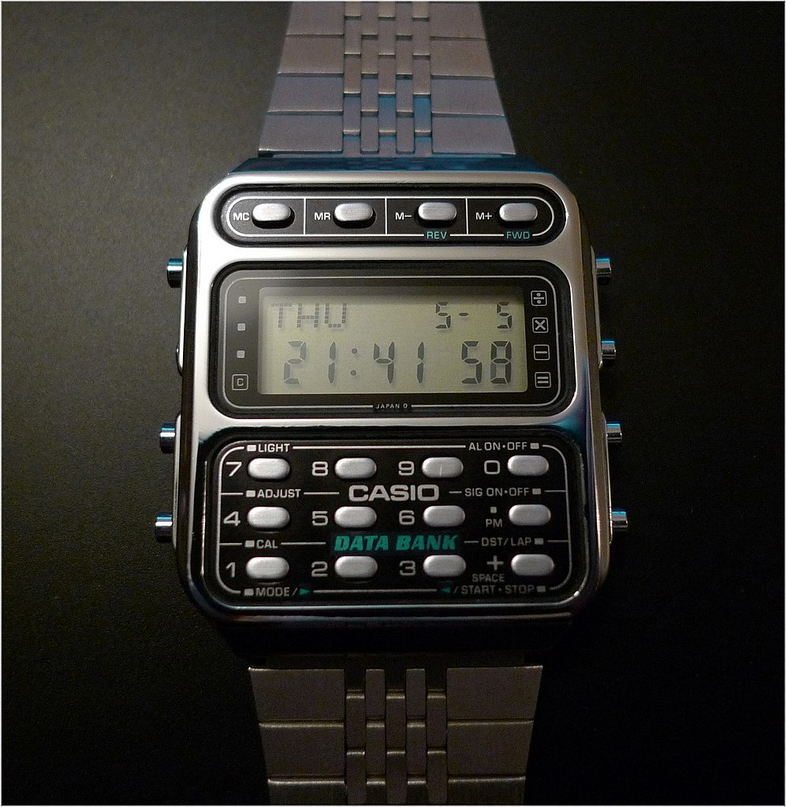 In the mid-80s, Casio unveiled the Databank CD-40, a watch that blended digital technology with personal productivity. Often referred to as the 'pre-smartwatch', it was one of the first wrist-watches to feature a databank that could store telephone numbers and other data.
The CD-40 came with a mini keyboard, enabling users to input data directly into the watch. This blend of practicality and technology earned the Databank a place in pop culture history. You can even see it in Ghostbusters, adorning the wrist of character Egon Spengler.
Its futuristic look and distinct features placed the Databank CD-40 as a significant chapter in the story of classic Casio watches.
5 – Casio A168WA-1 Electro Luminescence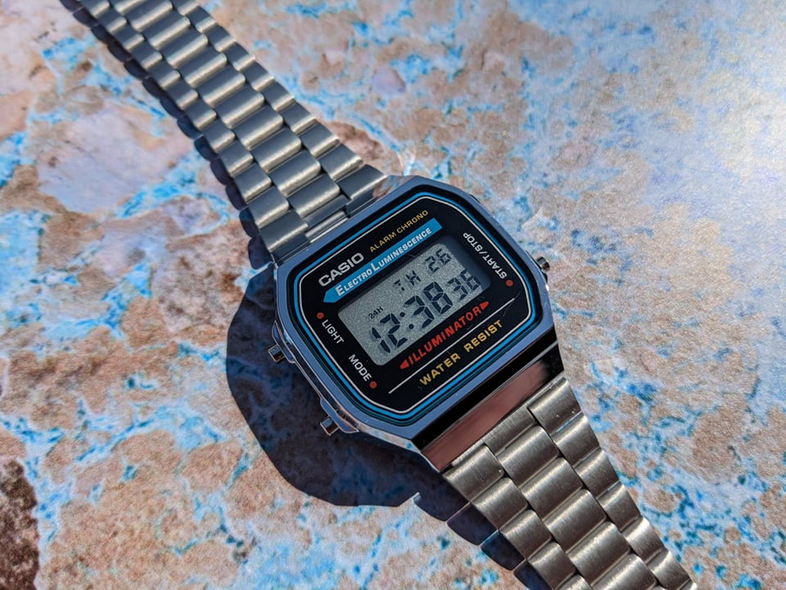 A nod to the 90s style, the A168WA-1 is another must-mention in our list of iconic Casio watches. This classic digital timepiece stood out with its stainless-steel design and water resistance up to 30 meters, a unique feature in a Casio wristwatch during that era.
What sets this model apart is its Electro Luminescence feature, which lights up the watch face at the touch of a button. This, coupled with a daily alarm and an hourly time signal, made the A168WA-1 a popular choice for those seeking a reliable, stylish, and practical timepiece. Its popularity endures, and it remains a fashionable accessory and a reminder of Casio's innovative history.
6 – Casio A500 World Time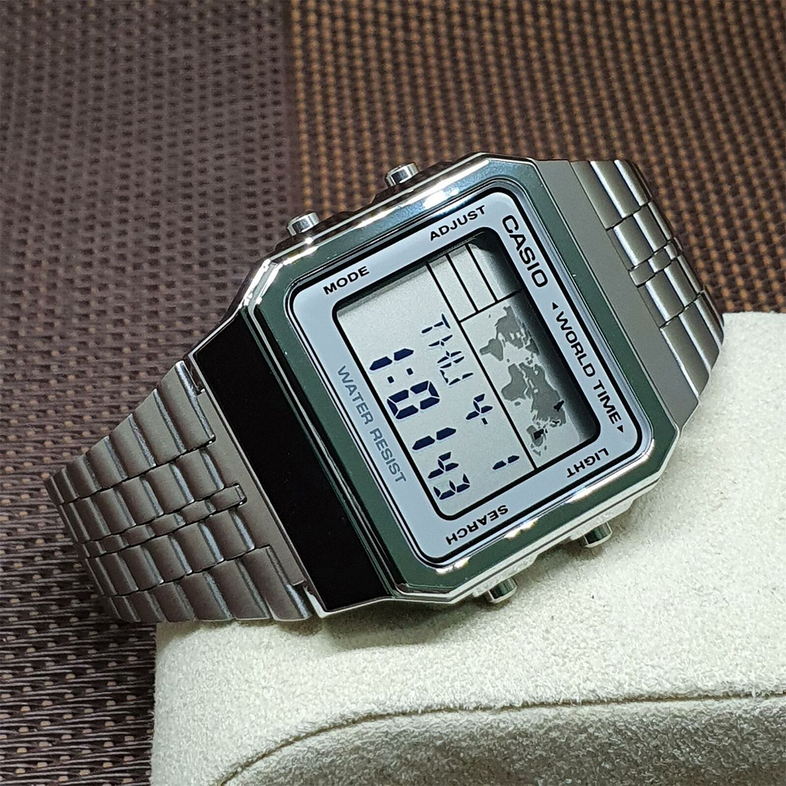 For global travelers and geography enthusiasts alike, the Casio A500 is a worthy mention. This Casio classic watch came with a world map display and the ability to show the current time in up to 48 cities. Its World Time feature was a significant draw, enabling easy switching between different time zones at the touch of a button, a practical feature during the heydays of international travel.
The A500 retained many of the usual features found in classic Casio watches, such as a daily alarm, countdown timer, and a fully automatic calendar. It also boasted a stylish look with its stainless-steel design and digital screen. A testament to Casio's innovation, this model is well remembered as a practical and stylish Casio wristwatch designed for the globetrotting community.
7 – Casio AE-1200 aka The "Casio Royale"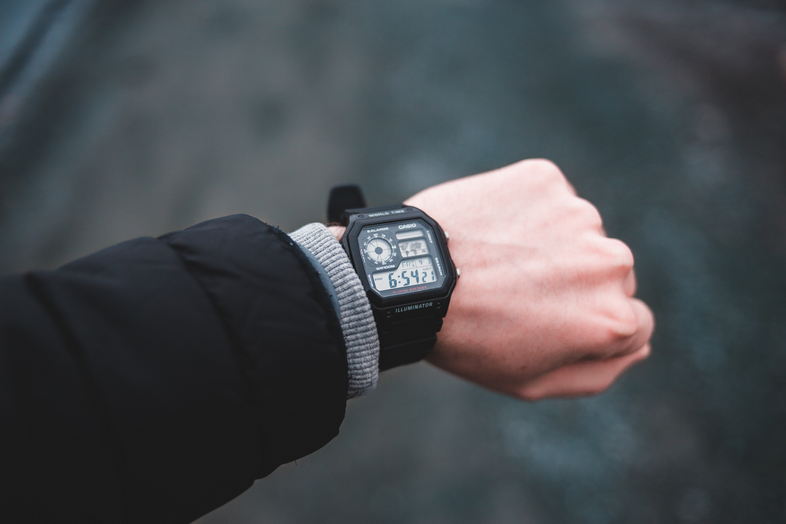 The AE-1200, fondly known as the "Casio Royale," earns its name and fame for its uncanny resemblance to a certain classic Casio watch featured in a well-known spy movie. This, combined with its affordability, turned the AE-1200 into a popular choice among Casio classics.
More than its movie star appeal, the AE-1200 brought a plethora of features to the table. The world time feature displayed the time in different cities around the globe, similar to the A500. It also boasted a 10-year battery life, an impressive feat that ensured the watch's longevity. Its water resistance of up to 100 meters was a substantial improvement from earlier models, making it a reliable timepiece for those with a more adventurous lifestyle.
8 – Casio Databank DB360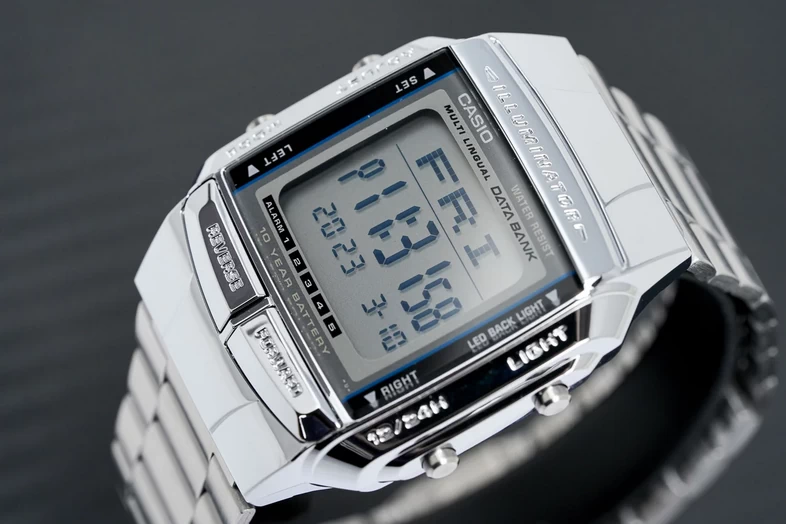 The Casio Databank DB360 was more than a watch; it was a digital companion. This iconic Casio wristwatch was a powerhouse of features, a blend of the classic and the advanced, and a symbol of the early tech wave.
Packed with a multi-function alarm, stop watch and auto calendar, the DB360 kept you organized while keeping you on time. Its standout feature was the memory capacity. It could store up to 30 records, including names and phone numbers, making it a precursor to today's smart watches. The model sported a gold or silver tone stainless steel case and band, which added a touch of vintage sophistication to this classic Casio watch. The DB360 was indeed a perfect embodiment of the Casio mantra: "creativity and contribution".
9 – Casio A700W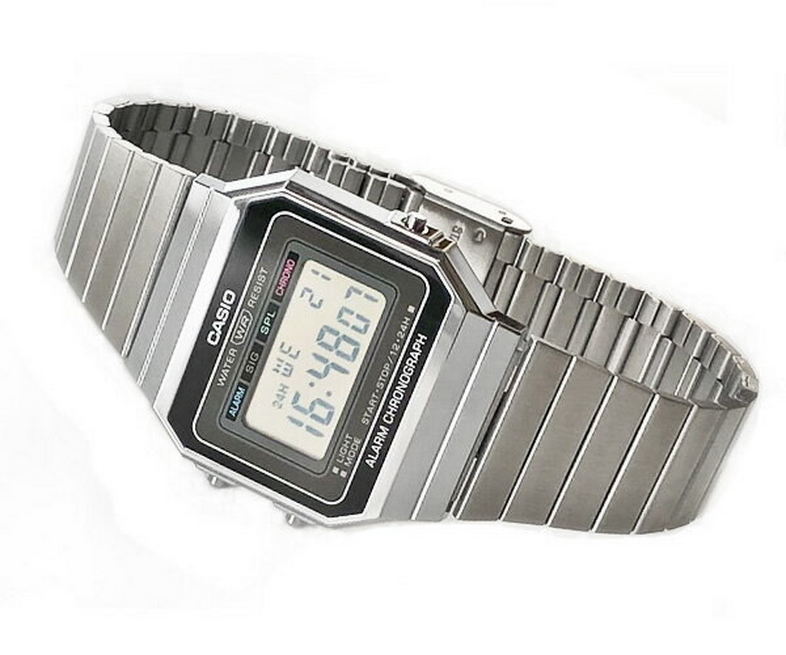 The Casio A700W was a chic blend of minimalism and functionality, a timeless piece that was equally suited for casual everyday wear and special occasions. It was a Casio classic watch that was both practical and aesthetically pleasing.
This slim, compact Casio wristwatch featured a sleek stainless-steel design, offering the perfect balance between style and comfort. Beyond its stunning design, the A700W is full with functionalities including an LED light for visibility in low light conditions, daily alarm, and 1/100-second stopwatch. Its water-resistant design made it a reliable companion through the rigors of daily life. Despite its simplicity, the A700W made a significant mark among Casio classics, providing users with both form and function.
10 – Casio A100WE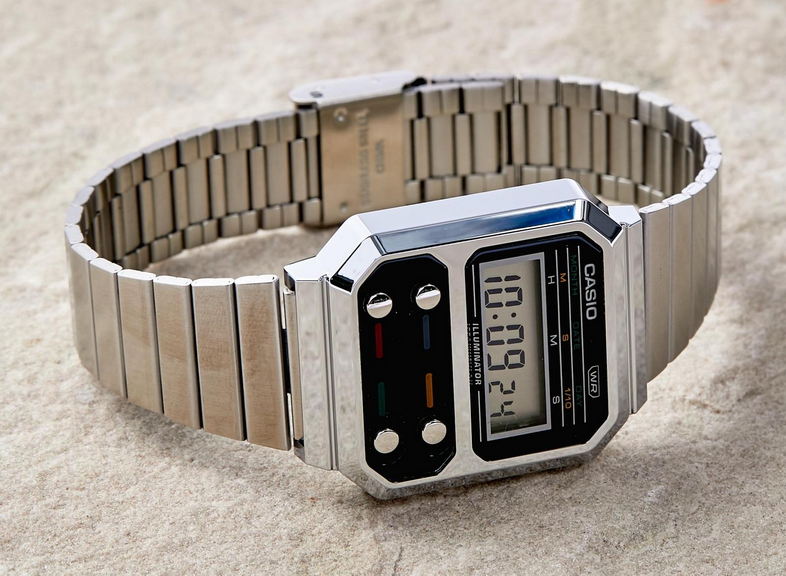 The Casio A100WE is a living testimony to the phrase "Old is Gold". Re-released in 2021, this masterpiece took inspiration from Casio's F-100 watch from the 70s, a perfect blend of nostalgia and modern watchmaking, representing the great lineage of classic Casio watches.
Its iconic four-button front design mirrored the original F-100, making it one of the unique Casio classics. The timepiece was enriched with an LED backlight, an alarm, and a stopwatch, allowing it to stay true to its heritage while embracing the needs of modern users. Furthermore, the A100WE came in three different variations, including one with a mesmerizing space-themed motif, which paid tribute to the F-100's place in space travel history – it was worn by Ellen Ripley, Sigourney Weaver's character in the film "Alien". It's no exaggeration to say that the A100WE adds a touch of space adventure to your everyday life.
Honorable mention – Casio CMD-40: Universal Remote Controller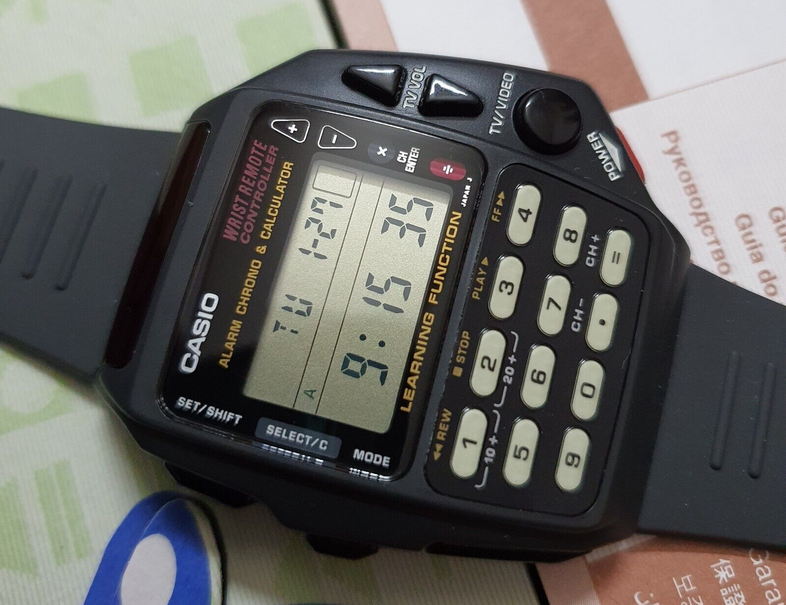 The Casio CMD-40 is one of the most unusual and innovative Casio wristwatches that stood out in the market. Launched in the '90s, this unique piece was one of the world's first wrist remote controllers.
No, that's not a typo. The CMD-40 was a watch and a universal remote control. You could adjust your TV, stereo, or any other infrared-enabled device directly from your wrist. How's that for a conversation starter? Its case design was classic '90s, big and chunky, which gave it an unmistakable presence. And despite its unique remote control feature, it still performed all the usual watch functions, including timekeeping, alarm, and stopwatch. Truly, the CMD-40 was an epitome of Casio classic watch innovation and a pioneer of 'smart' watches.
And there you have it. Ten of the most unforgettable vintage Casio wristwatches that have truly made their mark in the world of horology. Each classic Casio watch holds a unique place in the watch industry with its distinct features and history. These watches have proved that Casio, as a brand, is a leader in innovation, design, and technology.
However, while some of these models have been reissued or updated over the years, others can only be admired from afar or bought second-hand. Each of these watches not only tells the time but also gives a glimpse into the era they were created in.
Remember, whether you are a seasoned watch collector or a casual enthusiast. Each Casio classic watch holds more than just its material value. It's about owning a piece of history that has marked the passage of time. And in the end, isn't that what makes a timepiece truly unforgettable?