The enchanting Indonesian island! Bali attracts millions of visitors each year with its breathtaking natural beauty, vibrant culture and warm people. As a first-time tourist in Bali, you might be overwhelmed by the sheer number of attractions and activities available. So, we've compiled a list of 10 unforgettable Bali tourist attractions that will undoubtedly make your trip a memorable one. Whether you're seeking a thrilling adventure, a taste of Balinese history, or simply a picturesque spot to unwind, this guide will introduce you to some of the best destinations in Bali. So, let's dive into these must-visit attractions!
1 – Pura Tanah Lot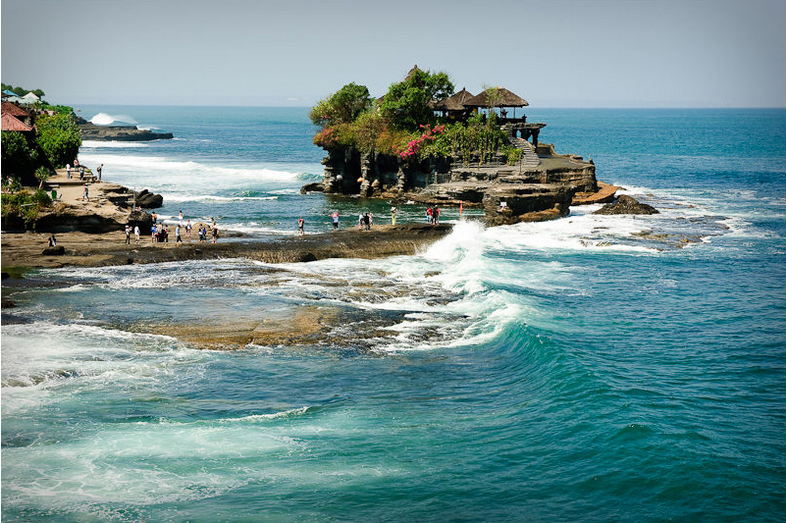 One of the most iconic attractions in Bali, the Pura Tanah Lot temple, is perched on a rock formation just off the coast. The temple's dramatic location, surrounded by crashing waves, is truly inspiring. Remember to time your visit for sunset. Because the golden light casts a magical glow over the temple and its surroundings.
As you approach the temple, you'll see a bustling market filled with souvenir stalls and local eateries. Sample some delicious Balinese snacks and browse through the colorful crafts before making your way to the sacred site. Once you reach the temple, take a moment to soak in the stunning vistas of the Indian Ocean and the lush, green cliffs that line the coast.
Pura Tanah Lot is not only a visual marvel but also holds great significance in Balinese mythology. It is believed that the temple was built to honor the sea god Dewa Baruna and is one of seven ocean temples that form a spiritual chain along Bali's southwest coast. Non-Balinese visitors are not allowed inside the temple itself. But the view from the outside is more than enough to leave a lasting impression.
Keep in mind that Pura Tanah Lot is about a 45-minute drive from popular tourist hubs like Seminyak and Kuta. It's advisable to hire a private driver or join a guided tour to make the most of your trip. Don't forget capture the mesmerizing beauty of this unique Balinese gem!
2 – Ubud Monkey Forest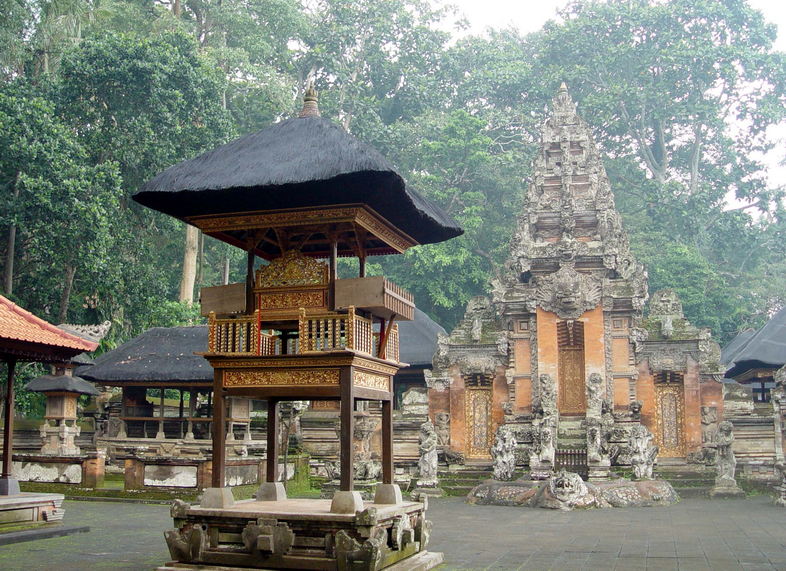 A visit to the Ubud Monkey Forest, home to hundreds of mischievous long-tailed macaques, is an absolute must for animal lovers. And anyone looking for a fun, immersive experience in Bali's lush natural environment. This sacred forest, officially known as the Sacred Monkey Forest Sanctuary, is not only a popular Bali destination for its furry inhabitants. But also for its ancient temples, stunning sculptures, and dense jungle landscape.
As you wander through the forest, you'll have plenty of opportunities to observe the monkeys up close and personal. Be prepared for some cheeky encounters, as the macaques are known to snatch belongings from unsuspecting visitors. Keep your belongings secure and follow the guidelines provided by the sanctuary to ensure a safe and enjoyable experience.
The Ubud Monkey Forest is more than just a wildlife sanctuary; it is also an important spiritual and cultural site. Within the forest, you'll find three ancient temples dedicated to various Hindu deities, as well as striking stone carvings that showcase traditional Balinese craftsmanship. Take your time exploring the grounds and immerse yourself in the serene atmosphere of this sacred space.
Located just a short walk from Ubud's town center, the Monkey Forest is easily accessible and can be combined with a visit to the nearby art market, palace, or a leisurely stroll through the picturesque rice terraces. Don't forget to bring your camera to capture the enchanting beauty of this must-visit attraction in Bali.
3 – Tegalalang Rice Terraces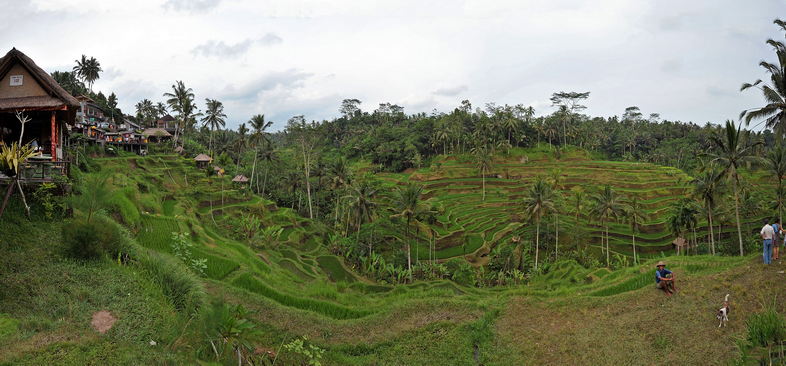 The Tegalalang Rice Terraces, located just a 20-minute drive from Ubud, are a breathtaking example of Bali's picturesque landscapes and traditional farming techniques. These terraces, with their vibrant shades of green, are a testament to the island's rich agricultural heritage and are a must-visit destination in Bali.
Visitors can explore the terraces by walking along the narrow paths that crisscross the fields. Along the way, you'll encounter local farmers tending to their crops, as well as numerous cafes and shops selling handicrafts and souvenirs. Don't forget to stop at one of the viewpoints to take in the stunning panoramic views of the terraced fields and surrounding jungle.
For those seeking a more adventurous experience, the Tegalalang Rice Terraces also offer opportunities for activities such as quad biking and jungle swings. Soar high above the rice fields on a thrilling swing ride or navigate the muddy terrain on an adrenaline-pumping quad bike adventure.
Visiting the Tegalalang Rice Terraces is not only a feast for the eyes but also a chance to learn about Bali's unique Subak irrigation system, which has been recognized as a UNESCO World Heritage Site. This ancient and sustainable method of water management is an integral part of Balinese culture and plays a vital role in maintaining the island's lush, green landscapes.
4 – Besakih Temple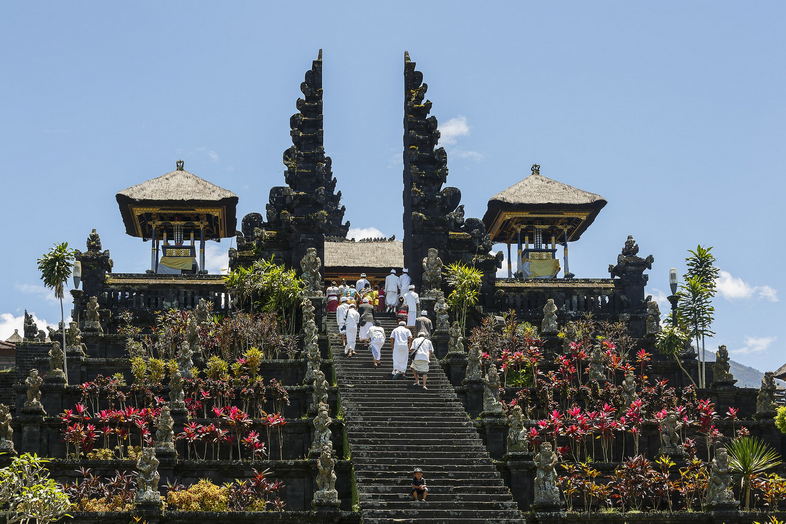 Besakih Temple, also known as the Mother Temple of Bali, is the largest and most important Hindu temple on the island. This sprawling complex, situated on the slopes of Mount Agung, consists of over 80 individual temples dedicated to various Hindu deities. With its awe-inspiring location, stunning architecture, and spiritual significance, Besakih Temple is a must-visit attraction in Bali for anyone interested in the island's rich cultural heritage.
The temple's history dates back over a thousand years, and it has been an important place of worship and pilgrimage for Balinese Hindus throughout the centuries. As you explore the temple grounds, you'll encounter intricately carved stone gates, towering tiered shrines, and sacred spaces adorned with colorful offerings and incense.
When visiting Besakih Temple, it's essential to dress modestly and adhere to the temple's etiquette guidelines. Sarongs are available for rent at the entrance if needed. Hiring a local guide is highly recommended! Because they can provide valuable insights into the temple's history, architecture, and religious significance.
5 – Uluwatu Temple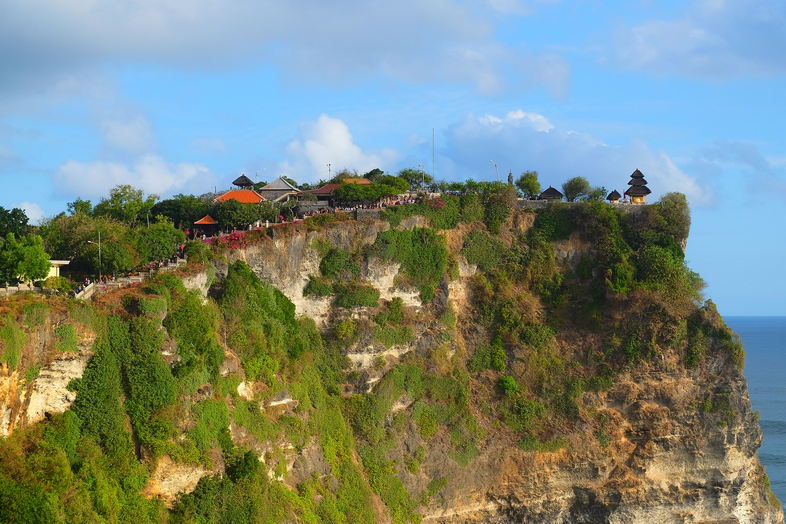 Perched on a dramatic cliff edge overlooking the Indian Ocean, Uluwatu Temple is one of Bali's most iconic and visually stunning attractions. This ancient Hindu temple, dedicated to the deity Dewa Rudra, is not only a sacred site but also an unparalleled vantage point for witnessing breathtaking sunsets and panoramic views of the surrounding coastline.
As you explore the temple grounds, you'll encounter playful long-tailed macaques, who call the surrounding forest home. While they may seem friendly, it's important to secure your belongings and maintain a safe distance. Because they are known to snatch items from unsuspecting visitors.
One of the highlights of a visit to Uluwatu Temple is the traditional Kecak fire dance performance. The show takes place every evening at sunset. This mesmerizing display of Balinese dance and music, set against the backdrop of the ocean and the setting sun. It is trully an unforgettable experience that showcases the island's rich cultural traditions.
6 – Sacred Monkey Forest Sanctuary in Ubud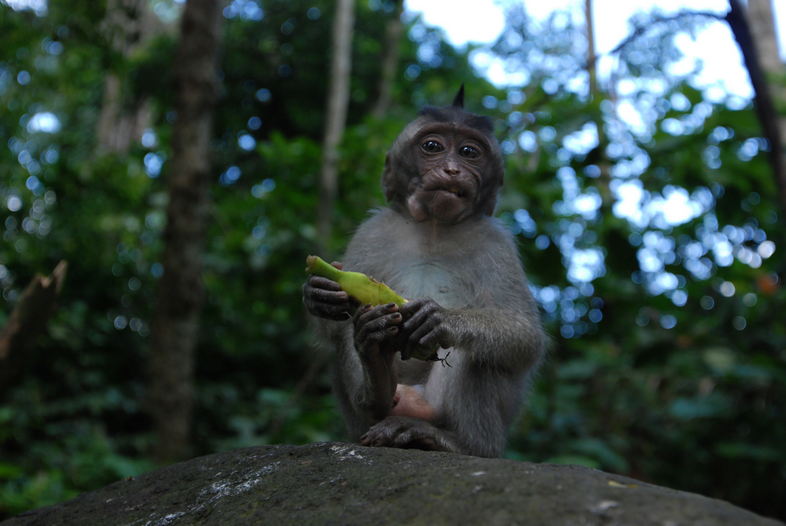 The Sacred Monkey Forest Sanctuary is a unique Bali destination that combines natural beauty, cultural significance, and wildlife encounters. This lush, jungle-filled sanctuary is home to over 700 long-tailed macaques who roam freely among ancient temples and statues, making it a one-of-a-kind experience for visitors.
As you stroll through the winding forest pathways, you'll come across three main temples dedicated to various Hindu deities, as well as numerous stone carvings and statues. The sanctuary is not only a place for observing and interacting with the monkeys but also a vital conservation center focused on preserving the area's natural and cultural heritage.
When visiting the Sacred Monkey Forest Sanctuary, it's important to follow the guidelines provided by the sanctuary staff. It is a "must" to ensure a safe and enjoyable experience. Keep a respectful distance from the monkeys and avoid direct eye contact. Additionally, better secure your belongings to prevent any unwanted monkey mischief!
7 – Seminyak: A Beachside Oasis for Sun Seekers and Shopaholics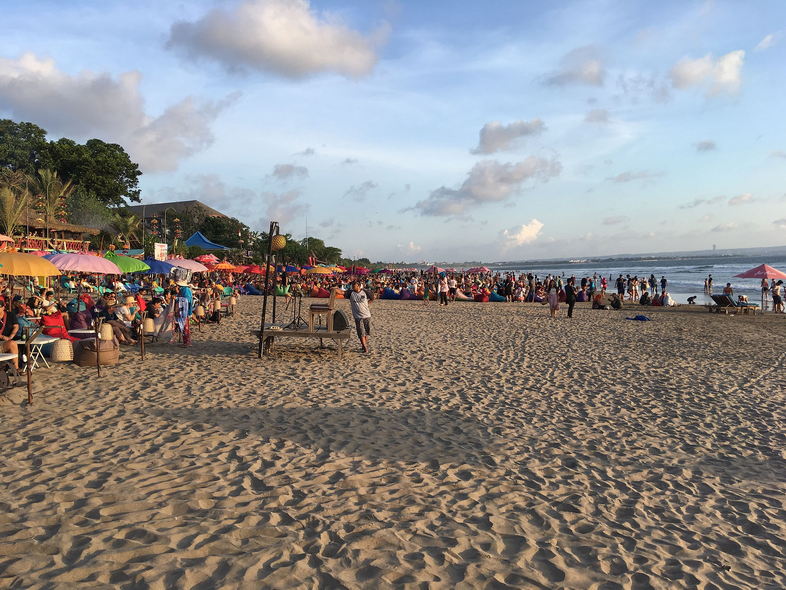 Seminyak is a stylish and sophisticated beach resort area that has quickly gained popularity among tourists seeking a more upscale experience in Bali. Known for its beautiful beaches, chic boutiques, world-class restaurants, and vibrant nightlife, Seminyak is the perfect destination for those who want to indulge in the finer things in life while enjoying the laid-back atmosphere of a beach town.
Seminyak Beach is the main attraction, boasting golden sands and excellent surf conditions. Rent a sun lounger and soak up the sun, or take a surfing lesson from one of the local instructors. If you prefer to stay on dry land, take a leisurely stroll along the beach and watch the sunset over the Indian Ocean.
While in Seminyak, don't miss out on the shopping opportunities. The area is home to numerous designer boutiques, art galleries, and homeware stores. It is perfect place to find unique souvenirs or treat yourself to something special. After a day of shopping and beachcombing, unwind at one of Seminyak's many trendy bars, clubs, or beachfront lounges.
8 – Nusa Penida Island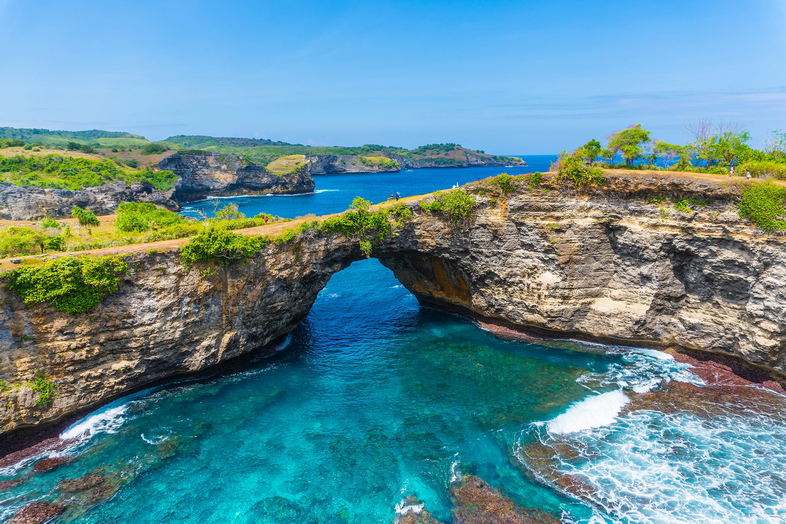 Just a short boat ride away from Bali, Nusa Penida Island is a paradise for nature lovers and adventure seekers. This island offers a refreshing escape from the more touristy areas of Bali. With its dramatic cliffs, pristine beaches, and crystal-clear waters!
One of the most famous spots on Nusa Penida is Kelingking Beach. The place is a secluded stretch of white sand framed by towering limestone cliffs. You should clear a steep and challenging hike. But the stunning views and serene atmosphere make it well worth the effort.
In addition to its natural beauty, Nusa Penida is also home to a variety of unique attractions. Two examples are the Broken Beach and Angel's Billabong. It is a natural infinity pool overlooking the ocean. For those interested in marine life, the island's surrounding waters are teeming with vibrant coral reefs. If you are into snorkeling and diving, it is an ideal destination for you.
9 – Tirta Empul Temple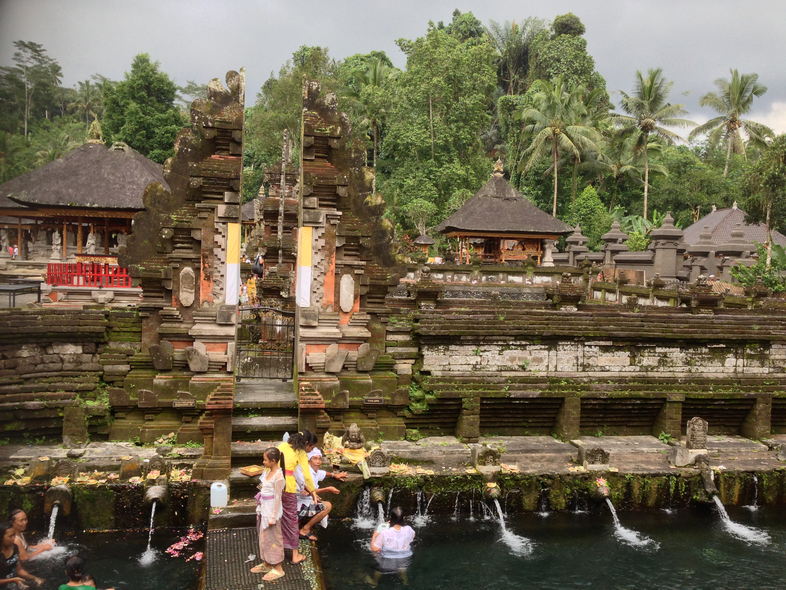 Tirta Empul Temple, (located in the village of Tampaksiring), is a sacred water temple revered by Balinese Hindus for its purifying spring water. The temple's central feature is a series of pools and fountains, fed by a natural spring, where locals and visitors alike come to participate in ritual purification ceremonies.
Upon entering the temple grounds, you'll be greeted by lush gardens, intricate stone carvings, and the tranquil sounds of water flowing through the fountains. The temple complex is divided into three sections. Each section is dedicated to a different Hindu deity, and features numerous shrines and pavilions.
Visitors to Tirta Empul Temple are welcome to participate in the purification rituals. But it's essential to dress modestly and follow the temple's etiquette guidelines. Sarongs are available for rent at the entrance. A local guide can help you to explain the process and significance of the ritual.
10 – Mount Batur Sunrise Trekking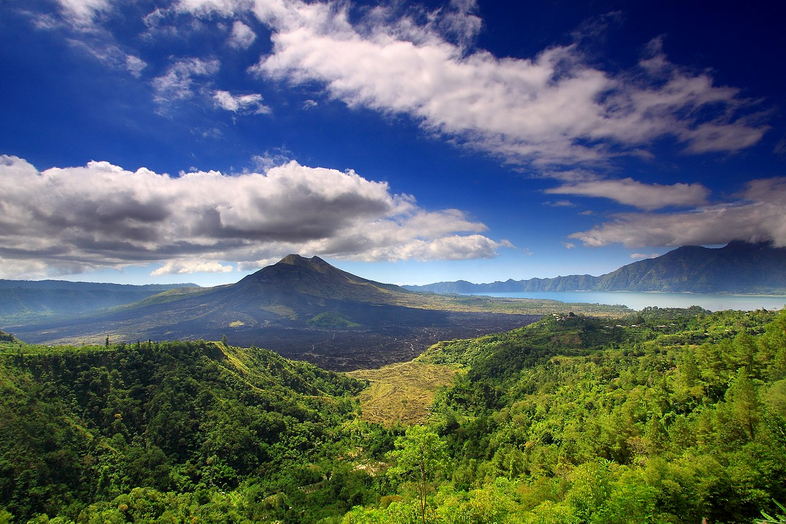 For adventure enthusiasts and nature lovers, the Mount Batur Sunrise Trekking is an unforgettable experience that showcases the breathtaking beauty of Bali's volcanic landscape. This active volcano, located in the Kintamani region, is a popular destination for those seeking a challenging and rewarding hike with stunning panoramic views.
The trek begins in the early hours of the morning, with hikers ascending the volcano under the cover of darkness. As the sun begins to rise, you'll see a mesmerizing display of colors and light. Illuminating the surrounding mountains, lakes, and valleys at the same time. Reaching the summit, you'll have the opportunity to explore the volcanic crater. You can also witness the wisps of steam emitted from the volcano's vents.
After the hike, you can visit the nearby hot springs to relax and soothe your tired muscles. Natural geothermal pools are perfect for this! This rejuvenating experience, combined with the unforgettable sunrise trek, makes for a perfect day of adventure and relaxation.
In conclusion, Bali is a diverse and enchanting island that offers something for every traveler. From the lush rice terraces of Tegalalang to the dramatic cliffs of Uluwatu Temple. The island is teeming with natural beauty, vibrant culture, and unforgettable experiences. Whether you're exploring the underwater wonders of Nusa Penida, immersing yourself in the spiritual atmosphere of Tirta Empul Temple, or catching a glimpse of playful monkeys at the Sacred Monkey Forest Sanctuary, the tourist attractions in Bali are sure to leave you with lasting memories and a desire to return. Don't forget to keep an eye out for cheap flights to Bali to make your dream vacation a reality. So pack your bags, and let the magic of Bali captivate your heart and soul.
FAQs
Q: When is the best time to visit Bali?
A: The best time to visit Bali is during the dry season, which typically runs from April to September. During this time, you can expect sunny days, comfortable temperatures, and minimal rainfall.
Q: What is the local currency in Bali?
A: The local currency in Bali is the Indonesian Rupiah (IDR). It's recommended to carry some cash with you, as not all establishments accept credit cards.
Q: Do I need a visa to visit Bali?
A: Many countries are eligible for a 30-day visa-free entry to Indonesia, including Bali. However, visa requirements can vary depending on your nationality. Be sure to check with your local Indonesian embassy or consulate for the most up-to-date information on visa requirements.
Q: What language is spoken in Bali?
A: The official language spoken in Bali is Indonesian, but the island also has its own local language called Balinese. English is widely spoken in tourist areas, so you should have no trouble communicating in most situations. However, learning a few basic Indonesian phrases can be helpful and appreciated by the locals.
Q: What are some local dishes I should try in Bali?
A: Bali offers a rich culinary scene with a variety of local dishes worth trying. Some must-try dishes include Nasi Goreng (fried rice), Babi Guling (roasted suckling pig), Ayam Betutu (spiced chicken wrapped in banana leaves), and Sate Lilit (minced meat skewers). Additionally, don't forget to sample some traditional Balinese sweets like Klepon (rice flour balls filled with palm sugar) and Dadar Gulung (coconut and palm sugar-filled crepes).